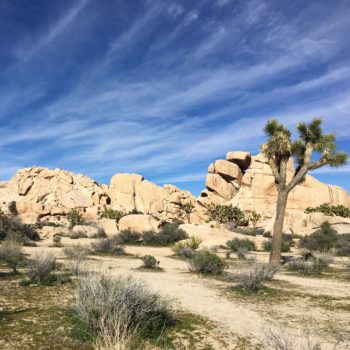 Destination: Joshua Tree National Park
Destination: Joshua Tree National Park
One of the main draws for moving to Los Angeles was being closer to the many places I've been wanting to explore. Most people have heard of Yosemite or Sequoia National Park, but unless you're a climber, chances are you've never really paid attention to Joshua Tree National Park. At least that was how I felt when I was still on the East Coast. Actually it wasn't until I started working at the climbing gym that I kept hearing of this little place named JTree where supposedly the climbs are amazing… Well it turns out that Joshua Tree is only 2.5 hours from LA! I've been itching to check this place out for myself for years and our move made this easily possible, but besides our drive one night to go see the Perseid Meteor shower, Corey and I have spent one year in Los Angeles without exploring this gem. We knew we had to change that ASAP!
The climbing season is drawing to a close with Spring here, and we wanted to get at least one good climbing day in. To my luck I had a string of days off over my birthday weekend! We decided to make a little camping trip out of it by leaving early Saturday morning, camping for a night and then returning some time on Sunday.

Camping
The camping situation is a little tricky. Joshua Tree campsites are all first come first serve and due to it's popularity, all I kept hearing was how it was nearly impossible to get a campsite on a Saturday morning. Most people will arrive early Friday morning and reserve their sites through the weekend. I asked my hiking group what their thoughts were and was given much more helpful info that anything I could scour online! It's not as impossible as you may think. When we entered the park, the ranger had told us that the sites had been full for a few days, but that's only because the turnaround time happens so quickly that it never gets reported to the rangers that a site is open. If you arrive around 9am and drive around as people are packing up to leave, you can luck out and score a site. We saw it for ourselves on three different occasions. People in front of us were driving around and asked groups who looked like they were packing up if they were leaving. To their luck, they found people who were preparing to head out and snagged the site immediately. There was even one group who walked around on foot to check the payment tags posted on each site. So it is possible with some persistence!!!

…But we weren't as lucky. After scoping out Hidden Valley and trying our luck at Jumbo Rocks (which has the largest number for campsites), Corey and I decided that we would settle for the BLM sites instead. This is essentially free camping that's not too far from the park, but don't expect anything lavish. There's no water, toilets, actual sites or much of anything. We're fine with this type of camping, but initially I was hoping to be completely immersed and climb ALL DAY or watch other people climb. Plus I was originally hesitant to camp out on BLM land because when we went to the Mojave National Preserve, you needed to look for an existing campfire ring to recycle the sites that people were using. In the dark, this was very hard to do! But following other's advice, the BLM sites near Joshua Tree are in a large empty field and there's plenty of space to park your car wherever you want. Turns out that this is a fantastic alternative to camping within the park!

Dog Sitting
One of the main reasons for us taking so long to visit Joshua Tree is the fact that it's a National Park and therefore not very dog friendly. It's hard for us to go anywhere, especially on a camping trip and leave Duke behind. I looked up sitters around LA and still felt hesitant about leaving Duke, but then had the idea of looking for a dog boarding place around Joshua Tree. That's when I came across Joshua Tree Pet Resort! They had great reviews, although odd pick up and drop off hours. I made the reservation by phone a few days prior and dropped Duke off after we had given up on finding a campsite within the park. The Pet Resort is located 1 mile outside of the park and had a ton of different sectioned off areas for dogs to romp around. The check in process was painless. I filled out some forms, gave them his vaccination history, and we were on our way. They charge $25 per 24 hours. This is equivalent to 1 day of daycare at PetSmart, but it's clear that owners at Joshua Tree Pet Resort give much more attention to their dogs and really care about providing a comfortable environment for every dog to play until their heart is content. I picked Duke up the next morning and despite napping in the car the entire drive home, he still opted out of a walk and chose to sleep the remainder of the day into the next morning. It's good to know that we have a great alternative for Duke any time we go to Joshua Tree.  http://www.jtpetresort.com/
Climbing
Alright so time for the good part…We decided to spend the day bouldering in Hidden Valley Campground, because people recommended it as a great place to start for beginners. It was also obvious that this whole campground was completely catered to climbers! Even when we were looking for a campsite earlier in the day, there were a ton of people already sport and trad climbing.
It's such a whole different world there and the vibes were amazing! You can pretty much assume that everyone has a common interest in climbing. Many of the climbs are within the campsites, so you'd think that it would be awkward walking next to someone's tent to get to a climb, but everyone was so chill. We asked for permission when people were there, but in most cases everyone was out for the day. Corey and I felt completely comfortable looking for climbs with other people. People offered to have us join them in their climbs. And I heard the occasional "You crushed it!" and "Get it!" from strangers while I was climbing.
We started on V0s on the Intersection Wall and soon learned the drastic difference between gyms and outdoor climbing. Even the easiest V0 we found was probably equivalent to a V3-4 slab in the gym. It took a little while to get used to trusting my feet on the "footholds" which were probably just a few millimeters thick. After a few hours, I realized how unrealistic climbing all day was. We had already been in the sun for hours, our hands were raw and our muscles were done. We decided to head to the BLM sites and relax for the evening.
BLM Sites
This area was exactly how it was described to me, a large field of land where anything goes. There were plenty of other people camping, but with so much land, we felt pretty secluded from everyone else. This didn't stop the noise though. We heard people firing guns for target practice until dark, a lot of talking and laughing until 3AM and someone riding an ATV into the morning. If you're looking for a quiet night, this might not be the best spot. It'd be fantastic for any large group looking to have a weekend getaway full of climbing and booze though! Either way, it was still perfect for us. We cooked up some Chef Boyardee, watched the sunset and enjoyed an episode of "This is Us" before bed. Hahah one of the very rare times where we had cell phone service while camping, so why not?!?!
Sunday Morning
Nothing beats waking up to a sunrise from your tent next to the love of your life. The best birthday morning- hands down. We cooked up a quick breakfast, packed up our stuff and headed back into the park to try to get in a quick climb. We went back to the Caveman route and didn't get much further due to horribly raw hands, but it was nice to catch another glimpse of the park before heading out.
We picked up Duke at Joshua Tree Pet Resort, checked out the gift shop "Coyote Corner" which had a ton of neat locally made products and showers, and then grabbed a bite at The Natural Sisters Cafe. The place had organic vegan foods at very reasonable prices. I got a veggie wrap and The Killer Bee smoothie which had bee pollen!
As soon as we left Joshua Tree, all Corey and I could talk about was how amazing this little trip was. It was the perfect reset button for us. Reset from the stress of work, life as an adult, and a reminder as to why we're together. Being stuck with this guy in the middle of nowhere with nothing but the essentials is heaven for me. I can't say that for many other people.
So when can we go back? Or where to next?!?!