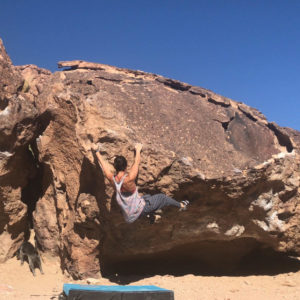 Destination: Bishop, CA
Destination: Bishop, CA
Continuation from Destination: June Lake
Day Two: Bishop and Happies

Leaving June Lake in the morning was pretty rough. The cottage was super cozy and warm!!! We took our sweet time and eventually made our way down to Bishop. Our first stop was securing a campsite. We didn't really know how crowded it would be so we wanted to make sure we got a campsite before heading out for the day. When putting "Pleasant Valley Campground" into GPS, it lead us to a campground with sites cost $14 a night and reservations can be made through reserveamerica.com. Everything I read online said the campground was $2 and on BLM land. So after turning back and driving for about a mile we found a tiny little dirt turnoff leading to Pleasant Valley Pit Campground. This one is known as a climber's campground. Sites used to be $2 a night but they must of just recently raised it to $5. Still not bad considering they have dumpsters,  pit toilets, fire rings and picnic table. It was perfect for us, and there were plenty of sites. After setting up camp, we headed to the dog park.

The last thing I want is for Duke and Daisy to be annoying with other climbers. To ensure they would be mellow, we took them to the park and tired them out first. The dog park was awesome! It's hard to find dog parks with grass…
Next stop was a touristy little spot called Erick Schat's Bakkery. We got some sandwiches for lunch, some bread for dinner, some pastries for the heck of it, and churros just because… Yumm!!!

Now we were ready for some climbing!! WIthin 15 minutes we were parked at the trailhead to Happy Boulders and (almost) ready to go. In typical Coriffany fashion, we had to nap first. Haha after our afternoon food coma nap, we were finally on our way!!!


The hike up to boulders kind of sucked. It was short but the heat was pretty brutal. Just when we were about to get sick of it, we were welcomed to the beautiful land of the boulders! There was plenty of routes and shade to be found.
Before we knew it, the dogs were dead tired and it was getting cold out. Daisy was so dead that I had to carry her back to the car!

We ended up leaving at the perfect time because by the time we got back to the camp it was getting dark quickly. We tag teamed making the fire and setting up camp. After some hot dogs and bacon and cheese bread from Schat's it was time for bed. Everyone except me fell asleep pretty quickly. I was determined to test out my new camera on the Milky Way. It took a long time and a lot of trial and error, but things turned out pretty well!

Day Three: Wild Willies and Happies
I couldn't really sleep throughout the night because I was a worried momma. Daisy and Duke slept just fine but I was constantly worried about them being cold. It was frigid out! Everyone was snug in the tent but when I took them out to pee in the morning, they rushed back into the tent to get warm!
The cold made it really hard to get up, but we were motivated to get the hot springs early before too many people got there. It took about 45 minutes to drive there from camp but the hot springs were extremely easy to find. To our surprise, when we got there there were already a ton of cars. Some people camped in the parking lot! We left the dogs in the car and gave ourselves 1 hour to relax.
This place changed my life! I can't believe I've gone 26 years without enjoying a hot spring like this. I've tried several geothermically heated spots- Mono Hot Springs, hot springs in Camiguin, Azores, etc. None were remotely close to this! It was in the 50s outside, but I got so hot I had to sit outside of the water to cool down.

The people we talked to were so interesting. Climbers, travelers, people who recently relocated to California. It was easy to relate and talk about climbing and hikes in the area. Before we knew it our hour was up and we had to return to the kids waiting in the car 🙁
At this point Corey and I were contemplating going home. We were just so relaxed that climbing felt like such a drag. But we figured we're in Bishop already, why not??! So after grabbing some lunch and of course another car nap, we were ready for round 2.

I'm so glad we returned. This day was amazing! I don't know how many routes we each finished, but this was when we both got a feel for reading the routes and mentally adjusting to being outside. On top of that, the dogs were still exhausted and didn't need nearly as much attention. We climbed until we couldn't climb anymore.
Bishop is only 4 hours away from our home in LA. We're so spoiled! We met climbers who flew out from Florida just to climb here! To take advantage of living so close, we're already planning a trip back in less than two weeks. This time we'll probably sleep in my car to stay a little warmer and park where the hot springs are. Can you imagine just waking up and going in for a dip? Maybe we'll try bouldering Mammoth or check out another Bishop spot. Who knows?!? That's the beauty of living so close and being flexible. Always a new adventure to be had!