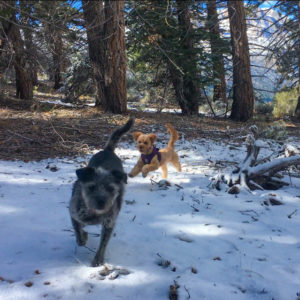 Destination: June Lake, CA (and Bishop)
Destination: June Lake, CA (and Bishop)
DAY 1: June Lake, CA
What do you do when you just so happen to get a week off work, your fiance works remotely, autumn/climbing season is about to start and you live like 4 hours from Bishop- one of the best climbing spots in the world?!?! You plan a last minute climbing trip… DUH!!!

After Joshua Tree completely kicked our butts and showed us that our V4 gyms skills are nothing compared to Mother Nature, we've been eagerly waiting for the cooler weather to arrive so we can test our skills again. Several people had told us that Happy Boulders in Bishop is far more beginner friendly with a wider variety of climbs. When we were at Hidden Valley in Joshua Tree, most of the climbs in our range were slabby and totally not the style we were used to. So we spent the past 6 months climbing hard in the gym on all sorts of routes and now we felt totally ready to redeem ourselves!

Although I had a good chunk of days off work, Corey was actually wrapping up one of his "sprints" at work. This meant that the deadline was looming over him with lots more to get done. As much as we would have liked to camp out for an extended period, it made more sense to stay at an AirBnb so that Corey could work until his sprint ended on Friday, and then we'd have the weekend to climb. I wanted to take Daisy and Duke somewhere where they can roam off leash on a trail. It's been way too long since Duke was able to explore some trails without the worry of running into cacti, and Daisy had yet to have her first trail experience. After a little research I decided that instead of staying in Bishop during the weekdays, we'd explore further north in the Mammoth area. By chance I came across a little cottage in June Lake that was dog friendly and seemed like the perfect location I was hoping for. To our luck the two nights we were hoping to reserve in their "motel style" cottage were open. Although it was advertised as the dinkiest room, I LOVED our little makeshift home!!!
It was so cute and cozy, complete with a little electric fireplace, fridge, microwave, coffee maker, dining table, Netflix and amazing wifi!!! The wifi was a such a huge plus! We weren't sure how the wifi situation was going to be considering we were in the middle of nowhere. At first the plan was to leave early Thursday morning so we could be in a cafe to take Corey's morning meetings before potentially completely disconnecting from the world. Things picked up with work (and still are…) so we decided to play it safe and stay in LA until we were sure he could afford to be offline. We didn't arrive at the cottage until late Thursday night, but it didn't hinder our experience at all. I always joke that I love going on these trips because I get to trap Corey in a car with me so we can talk for hours… and that's what we did!
Friday morning was such a treat. We walked of cabin and finally caught sight of what the night sky was hiding a few hours earlier. To our left were beautiful snow capped mountains! The Main St of town was only several hundred yards and we were right at the center of it. Across from our cottage we grabbed some coffee at a cafe and then picked up from gloves and a hat at the general store. After some breakfast at 'home,' Corey was back to work and I set out with Duke and Daisy for a hike.
I decided to hike June Lake Loop since our cottage was actually part of the loop. We set out heading north on Main St and within minutes we were already making our way up the dirt trail. There was NO ONE around. It was very clear early on that the dog would not be bothering anyone on the trail so I let them off leash pretty early on. Within seconds (no exaggeration) they were out of sight! I called for each of them and heard nothing. I remember thinking "OMG, I lost them already!" Then seconds later I see them zooming down the trail like 3 switchbacks up! After they got that pent up energy out, the hike went much smoother!

Daisy was a little angel and always made sure to stay close. Duke on the other hand was a little menace. He was alway enticing her to run further ahead and never listened to commands. As we got further up, the views of the lake kept getting better and better. 
We ran into more and more snow. They loved running around and eating it. 
We were all pretty exhausted by the time we reached the ski lift at the top. I don't if it was the elevation or the cold, but we were all winded. Luckily the second half of the trail is a VERY steep but short dirt road leading back into town. Unluckily, when I was close to the bottom I realized I dropped my phone on the descent. I almost thought of calling Corey to pick me up, but then I realized how stupid that was considering I dropped my phone. The only thing left to do was hike back up… Halfway up I found my phone! And then we we finally walked back into town.

The original plan was to rest up and go on another hike in the evening with Corey, but he still had work to do, the dogs were tired, and the temps were freezing! We decided to grab a bite at the food truck across the street, Ohana's and have a nice relaxing night.

I feel bad that Corey wasn't able to enjoy the hike with us, but stay tuned for a post I plan on releasing about perspectives, finding a balance between work and play, and seizing opportunities. Either way we still had a blast!
To be continued @ Destination: Bishop, CA