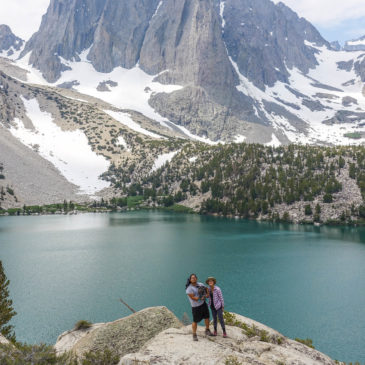 Destination: First and Second Lake, Big Pine, CA
Destination: First and Second Lake, Big Pine, CA
Part 1: Permits
I remember my unemployed self trying to plan out trips over a year ago. To my surprise practically every single campsite I attempted to reserve was fully booked throughout the entire summer. It turns out that people wait for reservations to open months in advance and as soon as the listings are open to the public, weekend sites are all reserved within minutes and completely sell out shortly after that. The other alternative is to backpack and camp somewhere in the backcountry. Although we wouldn't need to worry about getting campsite reservations, this wasn't an option for us either because we would still need to plan months in advance to acquire the appropriate permits. Plus, this was not something Corey and I were equipped to do at the time.

Instead I spent the last year slowly acquiring the gear needed to backpack and marked my calendar with the release dates for various campgrounds and wilderness permits. One night I was checking out alpine lakes in Instagram and came across one in California only a few hours away from LA- Big Pine Lakes! I knew we had to at least try to go here.

The permits to these lakes are pretty hard to come by. Day hiking is allowed, but in order to stay overnight you need to acquire the appropriate permit up to 6 months in advance (Big Pine- North Fork Trail). In one day, there are only 25 overnight permits available and of that, only 15 are available to be reserved in advance. The remaining 10 are available as walk up permits available at 11am the day prior to your departure.
When permits opened up, I made it a point to wake up early and get one for a July weekend this year.  This would ensure that snow from the winter would be gone and gives us time to train and buy gear. This would be our first backpacking trip and a trainer hike for Havasupai in August!

https://www.recreation.gov/wildernessAreaDetails.do?page=detail&contractCode=NRSO&parkId=72203
Part 2: Getting There
The prep for the hike wasn't bad at all. We bought a bear canister and put the finishing touches together a few days before our departure… food, fuel, etc. When we thought we were finally good to go, we learned that Corey's grandmother had passed away. This was completely out of the blue and just came to us as a huge sucker punch. It was difficult to process, to figure out logistics of going home to be with family, to get a sitter for Duke, and on top of that figure out what to do with this trip. In the end we found a way to work everything out so that Corey and I would fly separately back home the following week. As for Big Pine, we decided to try and go anyways. Let nature provide therapy. Corey decided to not use his intended vacation days since he's still new at his job and using vacation time and bereavement just seemed like too much. This meant we would only camp for 1 night, but it's totally doable.

As always, Corey was working the night before our departure. Then he decided to write to clear his head and before we knew it, it was 2am and time to start our 4.5 hour drive. He barely slept in the car which totally worked against him later on… Regardless, the drive went really smoothly- free from LA traffic. We had called the day before to request that our permits be left in the overnight box so we could get an early start on our hike instead of waiting for the office to open. Thankfully it was right where it should've been in Lone Pine and it was just a quick pit stop.

Part 3: Here We Go
When we approached the trailhead, we realized that the overnight parking lot was not directly where the hike begins. We had to turn around and park at a specific lot for overnight hikers which ended up adding another 0.5 mile. This area is in bear country so we had to take special precautions to prevent the hungry curious creatures from breaking into my car. After cleaning my car and loading all scented items into a bear box, we were finally good to go.
The later than intended start made the first 2 miles of this hike so brutal! It was completely exposed. Altitude sickness causing pain in our chests with every breath, pure sun beating down on us, and knowing that we just barely started was a horrible combo! It took a little while but after taking it slow we felt like we were finally acclimating. By the time we past the brutal boring part and got to see our first waterfall, we were totally ready to take on this hike!

Part 4: "Almost" there
The terrain was constantly changing. It kept things interesting along the way and I constantly felt like we had to be almost there. Corey's so sick of hearing "we're almost there," because 99.9% of the time I'm horribly wrong. But with the turn of every bend, we were brought to a whole new expansive view (which is part of the reason I kept thinking we were almost there).  Hahah oooops!

As we got closer the lakes, the mosquito situation got worse and worse! We had to keep moving to prevent ourselves from being eaten alive. At this point we knew it really wasn't long before we got to the lakes.
Part 5: Goodnight
Corey was on the verge of passing out when we got to First Lake. Not from heat exhaustion of anything, but from the lack of sleep and hours of hiking. After a few pictures at First Lake we decided to go to Second Lake where we originally planned on making camp. When we got there, it didnt seem like there were any good spots to set up camp. There were a good amount of people and giants boulders everywhere. Seeing that we wanted to nap soon and needed to be near water to fill up our bladders, we headed back to First Lake to make camp….

HUGE MISTAKE in retrospect. Mosquitos everywhere! Literally at one point I brushed 10 off of Corey's shoulder alone. We were forced to stay in our tent as much as possible. Although it sounds horrible, it wasn't an issue at all. We napped for a few hours. Woke up to eat dinner and then slept for the entire night. In total, Corey slept for 16 hours…

Part 6: Enjoying the lakes
The next morning we woke up completely refreshed. We headed back to Second Lake and realized that there were plenty of spots on to camp on the boulders. It just wasn't evident when there were groups of people everywhere. After some lounging around and plenty of pictures we were good to go home.
Part 7: Homeward Bound & Busted Paws
The hike back home was quick and easy for Corey and I, but Duke was hurting big time. The tree that he tried to dig up the day before caused him to have swollen red paws from splinters. We thought we were prepared by bringing his dog booties, but after hiking a few miles with them on, we realized that the edge of the booties were digging into his legs. He's never had this problem before, but never had them on for this amount of time either. Now he had swollen paws and open wounds on 3 of his legs. Poor guy needed us to entice him with treats to make it back to the car.
Duke ended up going to the vet once we were back home. Since Corey and I had to go back to MA to be with family and attend his grandma's services, we wanted to make sure that Duke would be all set with the sitter. We were so glad he went to the vet because after shaving his legs to clean out the wounds, we learned that they were worse than we initially thought. He was given a Neosporin-like ointment and advised to wear a cone for a few days. We knew he was in good hands with Hot Dog on a Run, our preferred doggy sitters. After a few days of misery in a cone, Duke was back to his old self!