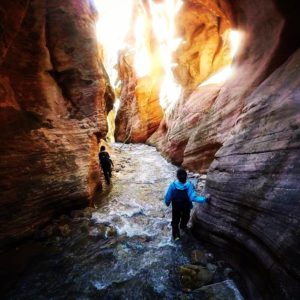 Destination: Zion National Park, UT
Destination: Zion National Park, UT
A few weeks ago (or months at this point) I ventured to Zion for the first time ever! It was a quick trip seemingly no different than my other adventures, but this was one was truly something special! Zion has been a dream of mine since I was kid, and the way this trip came together and the way it panned out was more perfect than I could've ever hoped for. I made countless memories that I'll definitely cherish for a lifetime. Here are the highlights!
8. Started with a Surprise
One of the coolest parts about this trip happened before I even arrived at Zion. The original plan was for me to start driving to Zion by myself and then my bestie, Dany, would fly from CO to Las Vegas to join me. Well a few days before I was set to leave for Zion, Corey had used my car to "drop off a friend at LAX." This isn't anything out of the ordinary and actually happens like once a month, so I didn't think anything of it. Since he was already on the way home when I got off work in the morning, he decided to pick me up. And just as I saw him pull up to the hospital, I saw Dany in the passenger seat!!! Turns out they had this planned for weeks. I had a guess they were up to something but was too absorbed in work to really take note. So before our epic trip to Zion, I was able to show my bestie around LA for a bit. This was her first time in the West Coast! In the short amount of time we've known each other we've been able to explore our home state of MA, Texas, Colorado, California and Utah together!
7. Springdale
I'm a sucker little quirky towns and Springdale was just that! I wish we had more time to explore the little art stores and eat at some of the restaurants, but there will be more chances. The road through Springdale leads directly to the entrance to Zion, so if you forget some necessities or are looking for a nice warm meal, Springdale is right there! We did grab some ice cream and rented some dry gear at an adventure store here. (That experience was an adventure in itself…) But I love the convenience and character of this town. Although we were adequately prepared to camp and cooked all of our meals, having Springdale just outside of the park helps in making Zion more family friendly and makes me feel more comfortable in one day planning a family trip for my parents who are not looking for a rugged experience.
6. Site 72 at South Campground
We hit the jackpot with campsites! Thanks again Sara and Elena! When Dany and I arrived at Zion, Sara and Elena had already spent a few nights there. They were busy conquering Angel's Landing, so Dany and I found the site and pitched our tent. We were already in awe of our surroundings but our jaws dropped when we got to our site. We were right next to the Virgin River! On top of that, the Watchmen Trail/Overlook was right behind us. It was like this site was made to cater to us! The fire pit had a huge log and tree trunk so that all 4 of us could be close to the fire at night. And during the scorching days, all we had to do was hop the fence to cool down by the river. We were also a 5 minute walk to the Visitor's Center to catch the shuttle and practically on the Par'us bicycle trail!
5. Par'us Trail
Seeing that our campsite was steps from the Par'us Trail, this was the first stop for Dany and I. It was the perfect introduction to Zion. This is the only bicycle and dog friendly trail in the park, so it's a nice easy walk on paved ground. The trail follows the Virgin River and offered surreal views of Zion's canyon walls. I'll never forget how giggly we were just walking along this path. Countless times we both just kept repeating, "I can't believe we're here!"
4. Watchmen Trail
Not long after we started wandering down Par'us Trail, we met Sara and Elena back at the campsite. Despite just finishing Angel's Landing they were up for another hike before calling it a day. We decided to hike the Watchmen Trail which was just on the other side of the Virgin River. We kept hearing that this hike is one of the less epic hikes in Zion, but it did not disappoint at all! In fact, I loved hiking this trail! It was such a great starter hike. The Watchmen was pretty much telling me "Welcome to Zion. If you think this is awesome, wait til you see the rest of me!" I knew I was in love at this point!
3. Kanaraville Falls
You can't go to Zion without doing a river hike. Unfortunately the Narrows were closed because of strong currents from the large amount of snow melt. We tried to apply for last minute permits for the Subway, but we didn't have any luck. BUTTTTTT… Sara and Elena talked to some of the employees from the Zion Adventure Company and they recommended a hike about an hour north of Zion called Kanaraville Falls. I've seen this place all over my Instagram feed and Backpacker Magazine for years. It wasn't until a couple of months ago that I realized Corey and I had driven past it 4 times and never knew it was just off the highway! We were all psyched to finally check it out!
We all decided to rent dry pants, neoprene socks and canyoneering shoes. Honestly, all of this gear made the hike so much more enjoyable. We stayed warm and dry in the water, and the shoes helped give us confidence with all the river crossings and wet rocks. The trail is pretty easy to follow because it goes along the Virgin River. I lost count of the number of river crossings because there were times the trail IS the river.
We took a snack break here where the landscape first made a drastic change. The river brought us into these slot canyons. The most challenging part of the hike were the steep waterfall portions. There were two that had logs to be used a ladder, and one area of cascading rocks that you can climb up.
The waterfall with the cascading rocks looked intimidating at first because the water was rushing so much that we couldn't tell that the rocks underneath the water were good stepping stones until we tried.
This one had broken steps in the middle but had a rope hanging down to help us out. Everyone we bumped into while hiking had turned back at this point. We decided to give it a shot anyways and didn't have much trouble making it up. It's always the getting down part that screws me up! I was the last the go down and like I said, there are missing steps in the middle. So essentially you're using the rope to help lower yourself down a 60 degree log that has water rushing down. I was doing just fine and completely through the tough middle portion with missing steps. When I finally got my feet on the bottom steps I felt my body losing balance and shifting left. Instead of trying to save myself and possibly wiping out on the log, I decided to just jump down. Well…. That spot that I decided to jump down to was right underneath the waterfall. Luckily Elena was there to spot me and made sure I landed on my feet so I wasn't completely drenched… But in the process I broke my iPhone 🙁 No regrets though…
2. Angel's Landing
I don't know if I just paid more attention to Angel's Landing since planning the trip to Zion, but in the weeks leading up to it, I was seeing Angel's Landing everywhere!!!! So many videos, pictures and articles to get us all hyped up! Sara and Elena had already finished the hike and were on their way back to Salt Lake City, so Dany and I were on our own during our final day in Zion.
To my surprise the beginning of Angel's Landing was paved. Yeah, it was steep and unrelenting but it was paved! I guess it makes sense with all the foot traffic to help with erosion. But the beginning was pretty straight forward. A lot of huffing and puffing and burning muscles. When we finally made it past the series of switchbacks called Walter's Wiggles, I remember thinking "Finally we're at the top!! Wait… that's it?!?!" …Nope! Not even close!
The last 0.5 mile of the trail is what makes Angel's Landing so special. There are 1500 ft drop offs on either side and spots where chains are used to help you prevent you from slipping and free falling to your death. It doesn't help that there are signs mentioning the amount of fatalities at the start of the hike… I can totally see how this can psych someone out and intimidate those who are fearful of heights.
When I came across the first chain, I remember feeling a quick adrenaline rush from the fear, but looking back in retrospect it was definitely the hype of the climb that got to me. When I hiked Taraw Peak, which was much steeper and easily more dangerous, I never felt fearful. Although Angel's Landing is relatively safe, I still felt some hesitation when I was up there. The drop offs are pretty nerve racking, but there was no point in the hike where I felt like it was sketchy as long as you were taking it slow and being cautious. In my opinion the only thing that makes Angel's Landing dangerous is the large crowds. Needing to maneuver around people on its narrow trail or having to deal with the impatient hiker looking to pass people can be deadly. Oh and the unprepared hiker! We saw a girl hiking in flip flops…
1. The company
Easily the best part of this trip was the crew of ladies! This trip came together with very little planning. Sara, Dany and I worked together at Central Rock Climbing Gym so we've all been friends on Facebook. I saw a post from Sara about her trip to Zion with Elena. I asked Sara if Dany and I could join. Dany and I joined. And just like that we're having a blast in Zion National Park!!!
Nothing but love for each other, a ton of laughter and the shared excitement for adventures! Seriously these girls are such an inspiration!