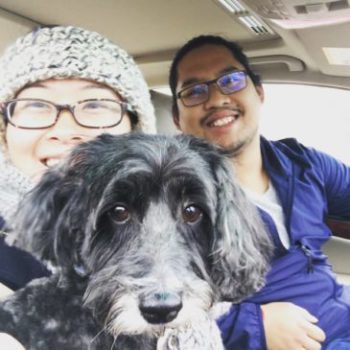 Introduction to Our 2017
Introduction to Our 2017
The blog has been pretty quiet for the past few months. I find it hard to write about the day-to-day and to organize my thoughts into a cohesive post. Because of that, I've been pretty much at a loss on what to write. Since my last post (way in December), a lot of things have happened. I visited Boston for the first time since settling in LA. Upon returning home, I caught a virus, developed a sinus/ear infection, and was bit by a dog all at once becoming deathly ill for weeks before I was able to function on a basic level again. Then Corey and I hosted his teenage aunts which happened to be their first travel experience, and of course we made into the experience of a lifetime (at least I hope)! On top of that, we finally moved out into our own little apartment! The past two months have flown by and we finally feel like things are slowing down enough for us to get into our rhythm again.
We haven't been able to go on any trips this year, but I've been making the most of our time by planning ahead. It was really frustrating trying to plan out camping trips last summer because all the hot spots we wanted to check out were booked up. With a little bit of research, I realized how in-demand some of these sites are, literally selling out within minutes of being on sale. Since then I've had my calendar marked with opening dates for campsite reservations and permits. I'm proud to say that we've been able to secure the appropriate permits/reservations for every little adventure we've been hoping for this year.

There are big plans in the works!

A girls trip to Zion for me =)

Our first backpacking trip to Big Pine Lakes to get a taste of the Eastern Sierras (and maybe Fort Collins after?!?)

Camping for a weekend in Yosemite Valley

Backpacking to Havasupai

On top of that, we're hoping to complete the Six Pack of Peaks Challenge together. Who knows, if all goes extremely well maybe Mt. Whitney will be in the picture too? Although there are no intentions at the moment… 
For now, it's all been about preparing. We're slowly acquiring the gear we need and building up cardio. I've started the City Slicker Challenge with a hiking group called Girls Who Hike LA, where I'll be hiking 12 of LA's most popular trails totaling 60 miles. And Corey has been climbing and working out regularly as well.

While continuing to explore little pieces of LA and hitting up trails, we still have little side trips planned to hold us off until the big events come around. And I'm super psyched to announce that we'll be celebrating my birthday, our 1 year move-iversary and starting off our 2017 adventure season with a mini trip to Joshua Tree this weekend!

Stay tuned because this is going to be an awesome year!