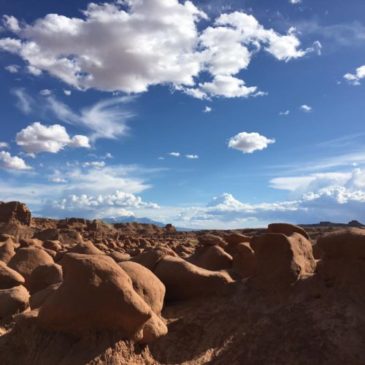 Goblin Valley State Park: One of Utah's Best Hidden Gems
Goblin Valley State Park: One of Utah's Best Hidden Gems
Ever since my first camping trip, I've absolutely fallen in love with the outdoors. I've learned what exploring can do for the soul and keep finding new situations where I'm completely taken aback by the beauty of mother nature. Being outdoors has become my reset button from the stressors in life, so in an effort to keep myself sane I try to take little weekend trips and explore a new place every couple of weeks. I'm not picky about where I go because every location has something unique to offer. The only requirement that I have is that it needs to be dog friendly! This is an absolute must, because if I had to choose one living being who enjoys being outside the most, it's my furchild Duke. This guy is made to explore! He has endless energy and keeping him inside is just torture. He's made to run, explore, dig holes, and chew on sticks. Seeing him in his element being wild and free is a joy in life that makes my experience outdoors even more special. His excitement and appreciation for the simplicity of nature is contagious and as a result, the best experiences I've had in life are when I'm able to combine my love for nature with his love for nature.

So when I decide to go on a camping trip, it's a real bummer not being able to bring Duke along. In fact, I've avoided all areas that aren't dog friendly. It stinks because I miss out on some awesome places like the National Parks (which limit dogs to campgrounds and developed areas), but as a result, I've explored some really cool spots that I otherwise would've overlooked. And that is exactly what prompts this post!

During our roadtrip to Colorado, Corey and I wanted to make a stop somewhere about halfway from Los Angeles to make the drive a little easier. I was so excited at the thought of finally being able to go to National Parks in Utah but soon learned about their strict dog policies. I then looked into various National Forests and almost decided on going to Dixie National Forest when I somehow came across a photo of funky mushroom looking rocks. After doing a little research, I learned that these were located at Goblin Valley State Park which was only another 2 hours further. Dogs are free roam the entire area as long as they're on a 6 ft leash. Without much more thought, we decided that that was where we were headed!
Goblin Valley State Park is located in the San Rafael Desert just off of Rt 24, about a 10 hour drive from LA. It's understandable that it gets overshadowed by the numerous National Parks a short drive away, but Goblin Valley has a lot to offer without the crowds. I loved it so much that I actually returned to Goblin Valley recently with my friend Dany a few weeks ago. Here are my highlights of Goblin Valley State Park throughout both of my stays there.

The Valley of Goblins
This is the main attraction of the state park. Although there are a few trails in this area, Corey and I only had a few hours in the afternoon to explore. We decided to go on a leisurely walk through the valley instead of rushing through a trail. The Valley of Goblins is as Mars like as it gets! Its full of funky globular rock formations of varying shapes and and sizes all around. And the best part is, you are free to explore and climb whatever you want! Of course, remember to leave no trace and be respectful of these funky features! We spent hours wandering around trying to make out shapes and objects from these formations. 

We were able to climb up some huge hills, take in the scenery and watch others exploring the valley as well. This is such a great spot to bring kids to disconnect and appreciate the intricacies of mother nature. I couldn't help but think of how fun it would be to play tag or just climb and jump off those goblins! What a great playground!
When Dany and I went to The Valley of Goblins, we explored a whole different aspect of the area. After a few pictures with the goblins, we walked through the valley floor until our pups found a dried out riverbed. We were the only ones in the area and decided walk along the riverbed to let our pups roam free until the sun began to set. Time flew by with every turn bringing on a new surprise of unearthly views! Just be prepared for some mud after rainfall!
Little Wild Horse/ Bell Canyon Loop Trail
I've never been to a slot canyon before despite obsessing over pictures of slot canyons every time I saw magazine photos of Utah. I thought I would finally be able to check this off my list by visiting Little Wild Horse Canyon during my first visit to Goblin Valley with Corey, but due to shortage of gasoline and lack of time, we had to opt out of this hike.

I finally got my second chance to explore during my weekend trip with Dany. We stopped by the visitor center of the park to get a little more information on the trail and grab a map. The visitor center was extremely interesting and informative. We learned more about how the goblins came to be and saw how much more Goblin Valley had to offer (but we'll get to that later). After about a 2 mile drive we reached the trailhead of Little Wild Horse Canyon which can be combined with Bell Canyon to form a loop. Seeing that Dany's pup, Charlie, was already sore and limping from our walk along the riverbed yesterday, we were only interested in hiking a portion of this trail. The ranger at the visitor center recommended Little Wild Horse over Bell Canyon, so that's we started off.

This was the first time in a slot canyon for the both of us, and immediately we were blown away! The excitement we had the previous day of exploring the riverbed, eager to see what was around the corner was exponentiated! You never knew how much the trail would open up or what type of rock formations/patterns would be next. Parts of the trail were so narrow it was barely more than shoulder width! The walls seemed like they climbed on forever towering over us. I felt in awe of how little I was compared to my surroundings. The silence and bold landscape made me feel more connected to nature and truly appreciate how lucky I was to be able enjoy this place that took thousands of years to create… That feeling where time slows down, you're completely present and every imperfection fades because everything is as it should be… <3


International Dark Sky Park
Goblin Valley State Park was just recently designated an official International Dark Sky Park! Corey and I were both shocked when we first saw the night sky here. We both grew up in the city and never had a chance to visit a place with zero light pollution. We definitely weren't expecting to see such spectacular skies that night. It was such a nice surprise to sit by the campfire as the sun was setting and slowly see more and more stars come into view. When we put out the fire to retreat to our tent, we looked up at the night sky and just stood and stared until our necks were sore. We tried to make out constellations, but there were so many fiercely burning stars! And who knew they actually twinkled?!?!? Ever since then, I've grown to love night skies and always compare it to that first time I witnessed a worthy one at Goblin Valley. Seriously, you'll be blown away!

Goblin Valley also host full moon hikes and viewing parties! Don't be surprised if you see the Milky Way here!

Campground
I felt so spoiled both times I stayed at Goblin Valley Campground! The backdrop is absolutely gorgeous! You can climb up a little to see the sunset, look out of your tent in the morning and see the sunrise, or look up at night to take in the dark skies. Each site also comes with 1 parking spot, a fire pit and grill, picnic table and hut-like structure to provide shade. Plus there are scattered water spigots, firewood sold at the visitor center, and modern and clean bathrooms with flush toilets. Again, it's a great family camping spot because of the amenities. The only downside might be the cost and feeling crowded during peak season.
Tons of options for other activities
When Dany and I went to the visitor center to grab maps for our slot canyon hike, we walked in to find a giant table with a 3D map of the area. We learned that directly outside of Goblin Valley State Park, there are tons of other canyons and peaks to hike. We also saw some info about pictographs, which we were both interested in seeing. So after our hike, we ventured to Temple Mountain and looked at a pictograph dating back to the Archaic Period at least 2000 years ago!!!!


During the drive in, we went beyond the reef and discovered a whole new area!!!! Turns out Goblin Valley State Park is surrounded by BLM land, so if you can't get a campsite at the campground, you still have plenty of options for the night! We passed by an empty lot where an RV was staying, complete with a bathroom too!


This completely reinvigorated me! I was feeling a little down thinking that I had already explored a good chunk of the state park, but now I realize that there's so much more to explore. I just never bothered to venture far enough. Near Temple Mountain you can find a ton of hikes and "Beyond the Reef Road" which is the backside to the canyons (and where you can find BLM campsites). Everything is in very close proximity so you can really pack a lot into each day!
QUICK TIP: If you're driving from the west, fill up your tank in Salina! It is about 130 miles from Goblin Valley. I didn't notice any "No services for X miles" signs or gas stations in between Salina and Goblin Valley. Closest gas stations are in Green River and Hanksville, but both are out of the way.